Samantha Lee is a Texas raised, Los Angeles based actress, writer, and content creator. She found solace in the theatre at 10 years old and got her degree in it at The University of Texas at Austin. Samantha was most recently seen on television in Special, Lucifer, and Station 19 and made her writing and directorial debut with the comedy series, We're Fine, of which she also starred. When she's not busy taking notes at book club to later use in her comedy, she's spending too much time with her dog, day-dreaming that she'll be the next Jack Bauer, and of course, always crying on camera.
Check out Samantha's awesome interview below!!
---
How do you prepare for a theatrical audition? (Can be how do you break down the scene, cultivate the character, etc;) 
I wish I had an audition check-list to streamline the process a bit, but I always start with familiarizing myself with the show if it's television. I'll watch an episode if it's available (and take note the genre, network, etc), and I'll look up the creators (writer, director, etc) to see if I'm familiar with any of their other work and the general tones of their projects. I then look at my character's purpose in the scene – whether that's to move the story along, provide information, mirror the emotional story line of the series regular, etc. This helps give me a sense of direction and figure out my character's arc.
I try not to just straight memorize, and instead, I'll rehearse the scene over and over again until I naturally have the lines down. Often I'll record myself saying the other lines, so I have "someone to work off of" when rehearsing by myself. I now also tape myself, so I have an idea of what I'm doing and how it's presenting to camera. Of course, it's ideal to rehearse with someone to get the rhythm right; they can also provide valuable insight you don't think of when you're "in it", and this gives you room for fun discovery. Once I've spent the time rehearsing alone, I always make my husband read with me a few times, ha. I'm also a big believer in paying for a coach on bigger auditions or ones you don't feel 100% confident in.
---
Any self-taping do's or don'ts? 
DO use natural light if you can (the window facing you)! I'm fortunate that I now live in a space that has a lot of natural light, and I can't tell you how much better my tapes look with it.
Set up your camera to be the most flattering for you (I love having this type of control because in the audition rooms we don't!), and try to prepare for your self-tape like you would an in-person audition. You'll feel better about it and spend less time frustrated and doing take after take after take. If it's a quick scene, I also include 2 different takes (since you don't have the luxury of being in the room and given notes, it gives them options).
DON'T have your reader be too loud or use really poor overhead lighting – no one looks good in that.
---
How do you handle nerves or stage fright? 
Do your best to shut out the noise when in the waiting room. I love being the only person in a waiting room, but that's very rare. So when you find yourself in a room with other actors who not only look like you (most likely) but all want the job as much as you do, don't focus your energy there. Stay in your lane, and if that means you need to have headphones on or go wait in the hallway, do it.
Comparing yourself to the other people in the room before you go in – and with knowing literally nothing about their talent – won't do you any favors. I also try to take slow, deep breaths and walk into the room with a chill confidence (even if I've got to fake it first!).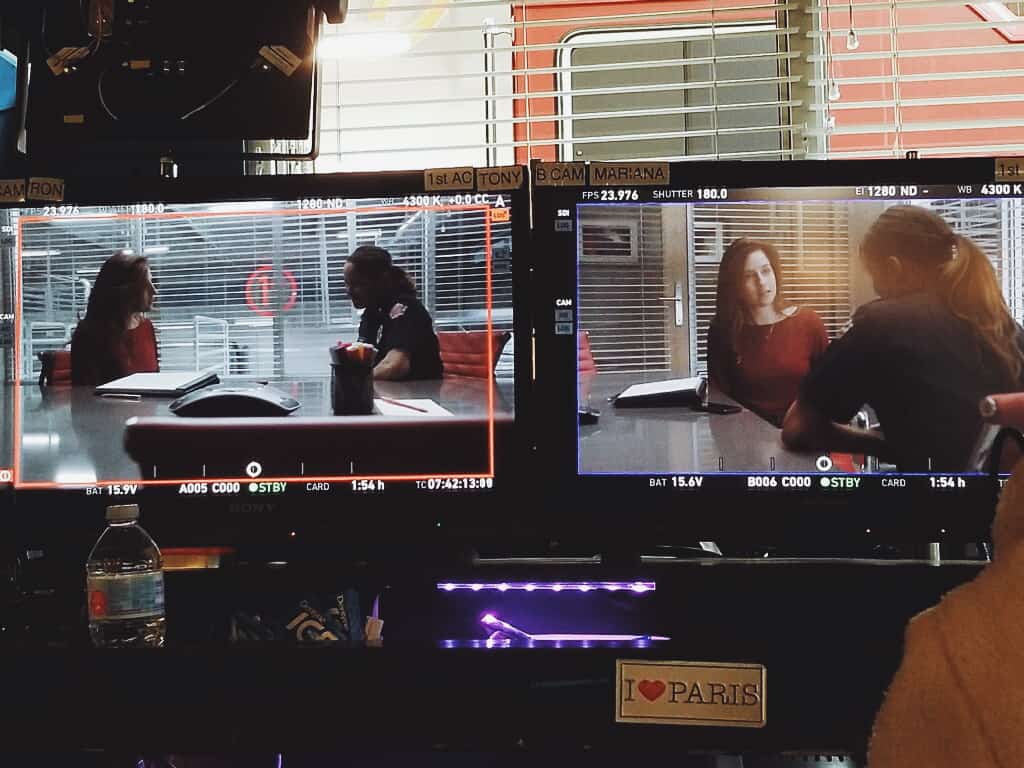 ---
Do you have any tips or tricks for commercial auditions? (What do you do if they involve improv? Etc;) 
Truly: just be yourself. The vast majority of commercials are looking for "real people". So, don't try to put on a show or act your way through it. Whenever I book commercial work it's because I chilled the heck out and just showed up as my true self in whatever scenario they've given me.

Often times they'll ask you a random question just to get a sense of your personality, and that is the most nerve-wracking for me because I don't feel I'm quick on my feet. There's no shame in practicing answers to those questions beforehand – an interesting trip you took, a scary experience you had, your favorite memory with friends, etc. The more you practice answering these types of questions, the more confident you'll feel when they're asked of you in the room.
---
Do you think branding is important for your headshots? If so, can you speak a bit to what your branding process was like? 
Absolutely. If you have to relay who you are and what you'll be cast as in a single photo, it needs to speak volumes. Watch TV and see what roles you could play in your sleep – the look, the personality, the tone of the show, everything. Those are the types of roles that casting and producers are going to most easily see you as – so look the part!
I also once participated in a branding workshop where complete strangers, without speaking to me, wrote down adjectives for me and hypothetical jobs. That's basically the same thing a casting director is going to do when looking at your headshot – assign adjectives, careers, personality, etc. to you.
---
Is there any advice you can offer about how a new actor can prepare to go on set? Or can you speak to what some of your experiences have been like on the sets you've been on?
There will be a lot of waiting around. That will be what the majority of your time on set will be: sitting and waiting. So, bring a book or small activity you can occupy your time with. If you have the pleasure of waiting around with other actors, talk to them, get to know them! This industry and your art is about connecting with other people, so use that time to do so.
Also, just show up prepared and on time. If you're nervous, you'll feel more so if you are showing up late and frazzled without having your lines down. You want to be seen as a professional, so you are hired again and again. So much of this industry is out of our control, so control the things you can.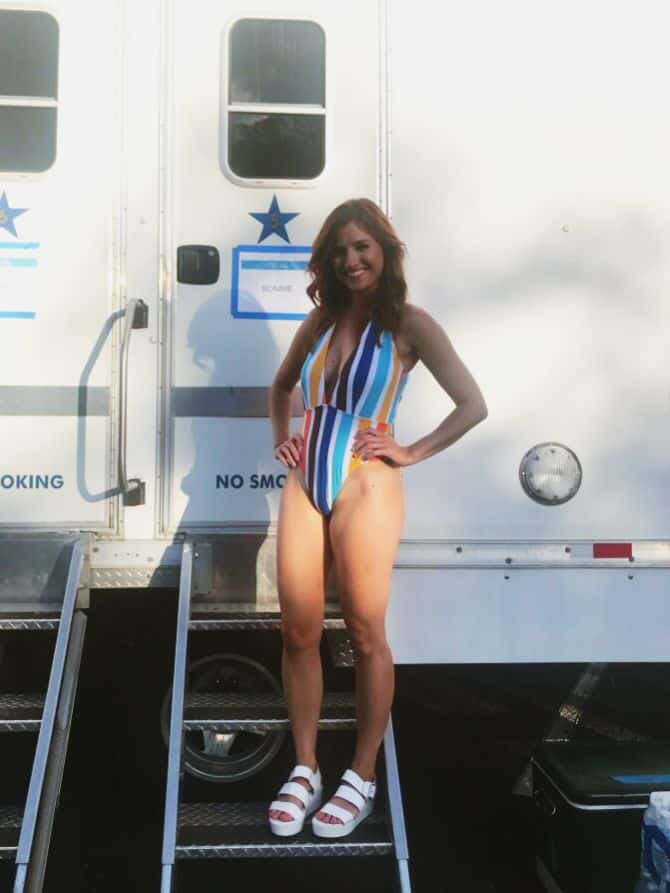 ---
How do you deal with rejection? And how do you stay positive? 
I wish it got easier, but I try not to attach myself too much to the opportunity of booking. I put in my best work and have had to learn to be satisfied with that because at the end of the day, that's all you can control. If you've done your job, the rest is not up to you, and you shouldn't take it to heart. I once interned as a reader at a casting office, and I can tell you that it's not personal and often says literally nothing about your talent. I remember once the best actor (truly, the casting directors and I all agreed) who came in to read for a part wasn't even on the director's radar when she was discussing her favorites afterwards.

Also – have a life outside of this! The actors you want to watch have lived full, life experiences – after all, it's what they draw from. If you are consumed with the business, not only will you be an uninteresting person (sorry, have to say it), but you'll be miserable and start feeling desperate. The people on the other side can always sense desperation, and you never want to walk in the room with that. To be confident and book the job, you have to know you have a happy existence outside of that poorly lit audition room.
---
What marketing materials are the most important for a new performer? 
Everyone's going to say this but #1 – your headshot. It's unfortunate that a thumbnail of your face is what's going to get you called in or not, but that's how it works. And if you don't have the credits to back you up, have a reel that shows what you can do. Before I worked professionally, I did a number of small, non-union projects and student films for footage. And that's how I got my first agent!
If you have friends with some equipment, you can even film your own scenes, which I've done a couple of times. I will say I don't think you should spend thousands of dollars on reel companies. The best footage is going to be from projects you've been cast in because THAT is most likely your type/casting and will be what you're called in for in the future.
---
You created your own web series, 'We're Fine." How cool!!! What is the best part of creating your own content? Any do's or don'ts for new writers/first-time filmmakers? 
Creating my own web series was the hardest thing I've ever done – but also the most rewarding. The best part about it? I got to be in control. As actors we often feel like we are at the mercy of so many other people (agents, casting, producers, directors, the list goes on and on) – and whether we book and WHAT we book is not up to us. Creating my own content gave me a huge sense of empowerment; I got to tell the story I wanted, exactly how I wanted to tell it. From writing to casting to producing and editing, I loved being involved in every, single detail. It was hugely rewarding and so enlightening to be privy to all the other roles it takes to make a film or television series. 

My dos: firstly, save money. Creating content (that will look and sound good), isn't cheap. A lot of wonderful people did me some solid favors for this project, and we shot it entirely in 2 days, but it still cost quite a bit. And if you're putting so much effort behind your project, don't you want an awesome finished product? Also, if you are both directing and starring, DO have a co-director or AD who can assist. I wouldn't have been able to pull it off had I not had someone to call point, be my eyes and ears behind the camera, make sure we stayed on schedule, help the DP with the shot set-ups, etc. I could go on and on because I learned so much, but really – ENJOY IT. Because why else are we creating?
You can find Samantha's Instagram HERE.
You can watch Samantha's Web Series "We're Fine,' HERE.
You can check out Samantha's IMDB page HERE.